Steve Horrocks
HPD, MNCH (Acc.)
Hypnotherapist for Norfolk & Norwich
My journey to becoming a professional hypnotherapist is probably far from typical. Looking back, however, I can see how key experiences in my career and personal life have contributed to me wanting to work with individuals in this way.
For many years I was extremely driven in my pursuit of various corporate-world goals. And perhaps not surprisingly, taking this path came at some considerable cost, particularly in terms of my physical health and emotional wellbeing.
Thankfully I broke free from this less than ideal state of affairs, and in more recent times a very different career and overall approach to life has called out to me.
I chose to be a hypnotherapy practitioner rather than any other form of therapist, as it offers a means of helping individuals achieve long-lasting positive change in relatively short periods of time. It also allows me to work very intuitively with my clients, which I thoroughly enjoy and which I consider to be one of my particular strengths.
Being a professional hypnotherapist allows me to experience that I am making a real tangible difference to people's lives. It's hard to know what more I could ask for from my working life.
I have been privileged to learn from a number of highly-regarded hypnotherapy practitioners, including:- Andrew Parr, a Harley Street hypnotherapist with many years' experience; and Dr John Butler, an internationally-recognised hypnotherapy educator, who was formerly a close associate of Gil Boyne - a leading light in the world of hypnotherapy.
So what do people say about me and the qualities I bring to my work with clients?
"…thoughtful, intelligent and insightful…"

"…kind and honest…"

"…someone you can trust…"
I greatly look forward to hearing from you and seeing how we can work together so that you can 'experience life differently'.
Best wishes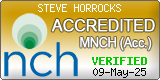 My Recent Training
Courses
Training Providers
Online Therapy Mastery
(Online)
Therapy Business Academy
Hypnosis for Therapeutic Transformation
(Classroom-based)
Hypnotherapy Training International
Clinical Hypnotherapy
(Classroom-based)
Hypnotherapy Training International
Professional Hypnotherapy & Hypnosis
(Classroom-based)
Leading to the NCH Hypnotherapy Practitioner Diploma (HPD) Qualification
Andrew Parr Training Limited
As with all forms of therapy - the precise results achieved may vary from person to person.